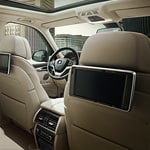 If you're seeking an automobile that exhibits fine qualities, has tremendous amounts of capability and offers a stable driving platform, then look no further than the BMW X5. This particular SAV will come in various trim levels, and there are multiple engine types to meet your driving demands.
The BMW X5 is a driver's dream to say the least. Consumers can expect a wide range of driver-assistance features for safety purposes. This includes Rear Cross-Traffic Alert, Lane Departure Warning and Pedestrian Detection. The vehicle's cockpit is modern and sophisticated with its woodgrain accents and premium leather upholstery. The BMW X5 can seat up to five individuals inside of its cabin, and the rear seats are configurable. It is estimated that this SAV will provide a total of 72.9 cubic-feet of cargo volume.
Get an up-close and personal view of this magnificent vehicle by simply visiting our dealership if you dare.